My Books
I have released 2 books: Dominatrix on Trial and Bondage Bungalow Fantasies. The first is my memoirs – all aspects of my life. The second is me sharing my clients' written fantasies with you, and telling you about a couple of days when I was a practicing dominatrix. Screen rights are again available. For more on that, contact me
DOMINATRIX ON TRIAL
BY TERRI-JEAN BEDFORD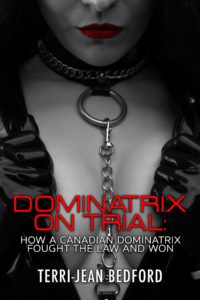 Now available. Click HERE
Terri-Jean Bedford was one of Canada's most notorious citizens–but few know her under that name. As Madame deSade, however, she was Canada's most famous leather-clad dominatrix, a well-known public figure appearing on the evening news as she took on the Canadian legal establishment to ultimately change sex worker law throughout the country.
Born into abject poverty, this bi-racial girl was placed into a foster home at six, where she was abused. She was later moved into various children's homes and lived there until she was 16, when she left to make it on her own. She survived by working numerous unskilled jobs, until she entered the world of prostitution.
Her talents and interests helped her move into the elite world of the professional dominatrix, after which life was never be the same. Located just outside of Toronto, her elaborate Bondage Bungalow became the target of a spectacular raid. Six highly publicized years of trials and appeals later, she was convicted under bawdy-house laws and paid a small fine. In 1999, she opened a similar facility in downtown Toronto, one that closed without police interference in 2002.
She remains a vocal advocate for civil rights and the disenfranchised. She has been a plaintiff in a major constitutional challenge, and, as a result, Canada's prostitution laws were struck down in 2010.
Because of Terri-Jean's failing health, Madame deSade hung up her whips and is now happily retired. She is considered a feminist icon today. A play based on this memoir premiered in Windsor, Ontario in May 2022.
TABLE OF CONTENTS
Acknowledgments
Preface
Chapter One: The Raid
Chapter Two: Bad Little Girl
Chapter Three: Jail and Bail
Chapter Four: Bad Big Girl
Chapter Five: My Trials Begin
Chapter Six: The Bondage Bungalow
Chapter Seven: My Trials Continue
Chapter Eight: Running the Bondage Bungalow
Chapter Nine: The Big Trial: Getting Ready
Chapter Ten: Sessions in the Bondage Bungalow
Chapter Eleven: The Big Trial: What a Spectacle!
Chapter Twelve: Clients of the Dominatrix
Chapter Thirteen: The Big Trial: What a Result!
Chapter Fourteen: Back in Business
Chapter Fifteen: Higher Courts
Chapter Sixteen: Dominatrix Lineup
Chapter Seventeen: Staying Alive
Chapter Eighteen: Constitutional Challenge
Chapter Nineteen: Constitutional Decision
Chapter Twenty: Supreme Court
Chapter Twenty-One: And Until Now
BONDAGE BUNGALOW FANTASIES
BY TERRI-JEAN BEDFORD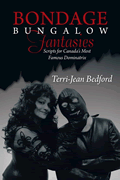 TABLE OF CONTENTS
Preface
Introduction
Part 1 – The Letters
Chapter 1 – I Need to See You
Chapter 2 – Here is My Application
Chapter 3 – Take Me to School
Chapter 4 – Make Me Your Slave
Chapter 5 – Make Me a Sissy Maid
Chapter 6 – Make Me a Baby
Chapter 7 – Humiliate Me
Chapter 8 – Torture Me
Chapter 9 – Cook Me
Chapter 10 – Mistress Doctor
Chapter 11 – Let Me Worship You
Chapter 12 – Take My Slave
Chapter 13 – Take My Man
Chapter 14 – Make Me a Dominatrix
Chapter 15 – Thank You Mistress
Part 2 – Being a Dominatrix
Chapter 16 – A Day in My Life: Wednesday, June 9, 1993
Chapter 17 – A Day in My Life: Saturday, December 1, 2001
Chapter 18 – Interesting Questions
Chapter 19 – Final Words
Books are also available at
Amazon / Barnes & Noble / Chapters Indigo